Some Random Funny, Humorous Pictures Collection
Mission Impossible : Mouse Edition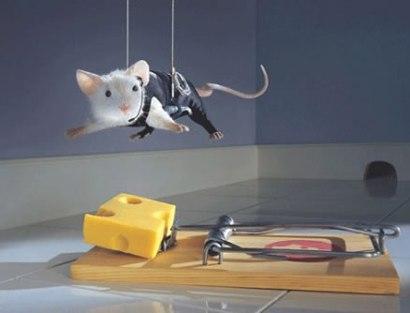 Pages: 1 2 3 4 5 6 7 8 9 10 11 12 13 14
1.. My husband and I divorced over religious differences. He thought he was God and I didn't.
2.. I don't suffer from insanity; I enjoy every minute of it.
3.. Some people are alive only because it's illegal to kill them.
4.. I used to have a handle on life, but it broke.
5.. Don't take life too seriously; No one gets out alive.
6.. You're just jealous because the voices only talk to me.
7.. Beauty is in the eye of the beer holder.
8.. Earth is the insane asylum for the universe.
9.. I'm not a complete idiot — Some parts are just missing.
10..Out of my mind. Back in five minutes.
Here's how you can make the safest & fastest browser, FIREFOX more faster.
How to reduce memory usage in Mozilla Firefox
1. Type about:config in the Firefox address bar
2. Search for browser.sessionhistory.max_entries
3. Double click on the value 50, change it to something lower, 5 should be good.
How it works
Averagely we surf less than 5 of the websites we previously surfed before, there is no need to usage up that much memory (which is 50 by default)
This is the collection of shayari's and jokes we had recieved through contact page in the last three months. Thanks to every one who sent us these wonderful shayari and jokes. Keep up the good work and keep sending us your wonderful creations.
We have not shown the email address of the authors inorder to save their mailboxes from spam.
Thank you,
Shayaro ki Shayari Team
Corporate Lesson 1 -
A man is getting into the shower just as his wife
is finishing up her shower when the doorbell rings. The wife quickly wraps
herself in a towel and runs downstairs. When she opens the door, there
stands Bob,the next door neighbor. Before she says a word, Bob says, "I'll give
you $800 to drop that towel." After thinking for a moment, the woman drops
her towel and stands naked in front of Bob. After a few seconds, Bob hands
her $800 dollars and leaves. The woman wraps back up in the towel and goes
back upstairs. When she gets to the bathroom, her husband asks, "Who was
that?" "It was Bob the next door neighbor," she replies. "Great!" the
husband says, "Did he say anything about the $800 he owes me?"
Moral of the story: If you share critical information pertaining to
credit and risk with your shareholders in time, you may be in a position
to prevent avoidable exposure.
Why India is a Great Country ?
An 80 year old man was sitting on the sofa in his house along with his 45 years old highly educated son. Suddenly a crow perched on their window.
The Father asked his Son, "What is this?"
The Son replied "It is a crow".
After a few minutes, the Father asked his Son the 2nd time, "What is this?"
The Son said "Father, I have just now told you "It's a crow".
After a little while, the old Father again asked his Son the 3rd time,
What is this?"
At this time some ex-pression of irritation was felt in the Son's tone when he said to his Father with a rebuff. "It's a crow, a crow".
A little after, the Father again asked his Son t he 4th time, "What is this?"
This time the Son shouted at his Father, "Why do you keep asking me the same question again and again, although I have told you so many times 'IT IS A CROW'. Are you not able to understand this?"
A little later the Father went to his room and came back with an old tattered diary, which he had maintained since his Son was born. On opening a page, he asked his Son to read that page. When the son read it, the following words were written in the diary :-
Slow motion video showing whats happening inside a 2-liter bottle of diet soda when Mentos are dropped in — the carbon dioxide in the soda is attracted to the tiny crevices on the
Mentos and quickly combine to shoot out the top of the bottle ……
Walking can add minutes to your life. This enables you at 85 years old to spend an additional 5 months in a nursing home at $5000/month.
My grandmother started walking five miles a day when she was 60. Now she's 97 years old and we don't know where the hell she is.
The only reason I would take up exercising is so that I could hear heavy breathing again.
I joined a health club last year, spent about 400 bucks. Haven't lost a pound. Apparently you have to go there.
I have to exercise early in the morning before my brain figures out what I'm doing.
I like long walks, especially when they are taken by people who annoy me.
I have flabby thighs, but fortunately my stomach covers them.
The advantage of exercising every day is that you die healthier.
If you are going to try cross-country skiing, start with a small country.
And last but not least…
I don't exercise because it makes the ice jump right out of my glass.
A real story happens to a girl in chennai recently.. must read
Her name was Priya. She was hit by a lorry. She is working in a call centre. She has a boy friend named Shankar. Both of them are true lovers. They always hang on the phone. You can never see her without her handphone. In fact she also changed her phone from Airtel to Hutch, so both of them can be on the same network, and save on the cost. She spends half of the day talking with shankar. Priya's family knows about their relationship. Shankar is very close with Priya's family. (just imagine their love) . Before she passed away she always told her friends "If I pass away please burn me with my handphone" she also said the same thing to her parents. After her death, people cant carry her body, I was there. A lot of them tried to do so but still cant , everybody including me, had tried to carry the body, the result is still the same. Eventually, they called a person who know to one of their neighbours, who can speak with the soul of dead person , who is a
friend of her father. He took a stick and started speaking to himself slowly.
After a few minutes, he said "this girl misses something here". then her friends told that person about her intentions to burn her with her phone. He then opened the grave box and place her phone and SIM card inside the casket. after that they tried to carry the body. It could be moved and they carried it into the van easily. All of us were shocked. Priya's parents did not inform Shankar that Priya had passed away. After 2 weeks Shankar called Priya's mom. Shankar :…."Atte, I'm coming home today. Cook something nice for me.Dont tell Priya that I'm coming home today, i wanna surprise her." Her mother replied….. "You come home first, I wanna tell you something very important." after he came, they told him the truth about Priya.
Shankar thinks that they were playing a fool. He was laughing and said "dont try to fool me - tell Priya to come out, i have a gift for her Please stop this nonsense". then they show him the original death certificate to him. They gave him proof to make him believe. (Shankar started to sweat) He said… "Its not true. we spoke yesterday. She still calls me. Shankar was shaking. Suddenly, Shankar's phone rang. "see this is from Priya, see this…" he showed the phone to priya's family. all of them told him to answer.he talked using the loudspeaker mode. all of them heard his conversation. Loud and clear, no cross lines, no humming. It is the actual voice of Priya & there is no way others could use her SIM card since it is nailed inside the grave box they were so shocked and asked for the same person's (who can speak with the soul of deal perosns) help again. He brought his master to solve this matter. He & his master worked for 5 hours. Then they discovered one thing which really shocked them…
Vodaphone has the best coverage. Wherever you go, our network follows you !
Congrats, you wasted your ten minutes
!