Some Random Funny, Humorous Pictures Collection
Mission Impossible : Mouse Edition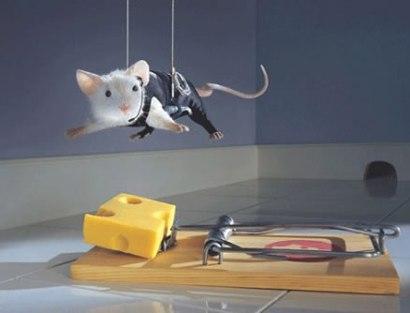 Pages: 1 2 3 4 5 6 7 8 9 10 11 12 13 14
1.. My husband and I divorced over religious differences. He thought he was God and I didn't.
2.. I don't suffer from insanity; I enjoy every minute of it.
3.. Some people are alive only because it's illegal to kill them.
4.. I used to have a handle on life, but it broke.
5.. Don't take life too seriously; No one gets out alive.
6.. You're just jealous because the voices only talk to me.
7.. Beauty is in the eye of the beer holder.
8.. Earth is the insane asylum for the universe.
9.. I'm not a complete idiot — Some parts are just missing.
10..Out of my mind. Back in five minutes.
Here's how you can make the safest & fastest browser, FIREFOX more faster.
How to reduce memory usage in Mozilla Firefox
1. Type about:config in the Firefox address bar
2. Search for browser.sessionhistory.max_entries
3. Double click on the value 50, change it to something lower, 5 should be good.
How it works
Averagely we surf less than 5 of the websites we previously surfed before, there is no need to usage up that much memory (which is 50 by default)
After every flight, pilots fill out a form called a gripe sheet, which conveys to the mechanics any problem they had with the airplane during the flight.
The mechanics read and correct the problem, and then explain in writing on the lower half of the form what remedial action was taken.
The pilot reviews the gripe sheets before the next flight.
Never let it be said that ground crews and engineers lack a sense of humor.
Here are some 'actual' maintenance problems submitted by Qantas pilots and the solutions recorded by maintenance engineers.
By the way, Qantas is the only major airline that has never had an accident.
(P = The problem logged by the pilot)
(S = The solution and action taken by the engineer)
P: Left inside main tire almost needs replacement.
S: Almost replaced left inside main tire.
P: Test flight OK, except auto-land very rough.
S: Auto-land not installed on this aircraft.
P: Something loose in cockpit.
S: Something tightened in cockpit.
This is the collection of shayari's and jokes we had recieved through contact page in the last three months. Thanks to every one who sent us these wonderful shayari and jokes. Keep up the good work and keep sending us your wonderful creations.
We have not shown the email address of the authors inorder to save their mailboxes from spam.
Thank you,
Shayaro ki Shayari Team
How exactly was the fire invented?
Corporate Lesson 1 -
A man is getting into the shower just as his wife
is finishing up her shower when the doorbell rings. The wife quickly wraps
herself in a towel and runs downstairs. When she opens the door, there
stands Bob,the next door neighbor. Before she says a word, Bob says, "I'll give
you $800 to drop that towel." After thinking for a moment, the woman drops
her towel and stands naked in front of Bob. After a few seconds, Bob hands
her $800 dollars and leaves. The woman wraps back up in the towel and goes
back upstairs. When she gets to the bathroom, her husband asks, "Who was
that?" "It was Bob the next door neighbor," she replies. "Great!" the
husband says, "Did he say anything about the $800 he owes me?"
Moral of the story: If you share critical information pertaining to
credit and risk with your shareholders in time, you may be in a position
to prevent avoidable exposure.
Xcuze.com has released this new tool which allows you to download your favorite Youtube Videos to your PC/Computer/Mac/Box .
How to download Youtube-Google Videos to your computer. Anything that plays .flv will do.
Enter the url of the Youtube Video you want to download
Click on the "Get Download URL" which appears.
Wait for 2-3 seconds and click on the url/link which appears
It will ask you to download, just add .flv extention before or after your download completes.
Why India is a Great Country ?
An 80 year old man was sitting on the sofa in his house along with his 45 years old highly educated son. Suddenly a crow perched on their window.
The Father asked his Son, "What is this?"
The Son replied "It is a crow".
After a few minutes, the Father asked his Son the 2nd time, "What is this?"
The Son said "Father, I have just now told you "It's a crow".
After a little while, the old Father again asked his Son the 3rd time,
What is this?"
At this time some ex-pression of irritation was felt in the Son's tone when he said to his Father with a rebuff. "It's a crow, a crow".
A little after, the Father again asked his Son t he 4th time, "What is this?"
This time the Son shouted at his Father, "Why do you keep asking me the same question again and again, although I have told you so many times 'IT IS A CROW'. Are you not able to understand this?"
A little later the Father went to his room and came back with an old tattered diary, which he had maintained since his Son was born. On opening a page, he asked his Son to read that page. When the son read it, the following words were written in the diary :-